Red Dead Online Daily Challenges
Today's Daily and Role Challenges  – 30 January
Here are today's Red Dead Online daily challenges and role challenges, along with quick guides for the individual challenges and a general guide to help you get today's challenges done quickly.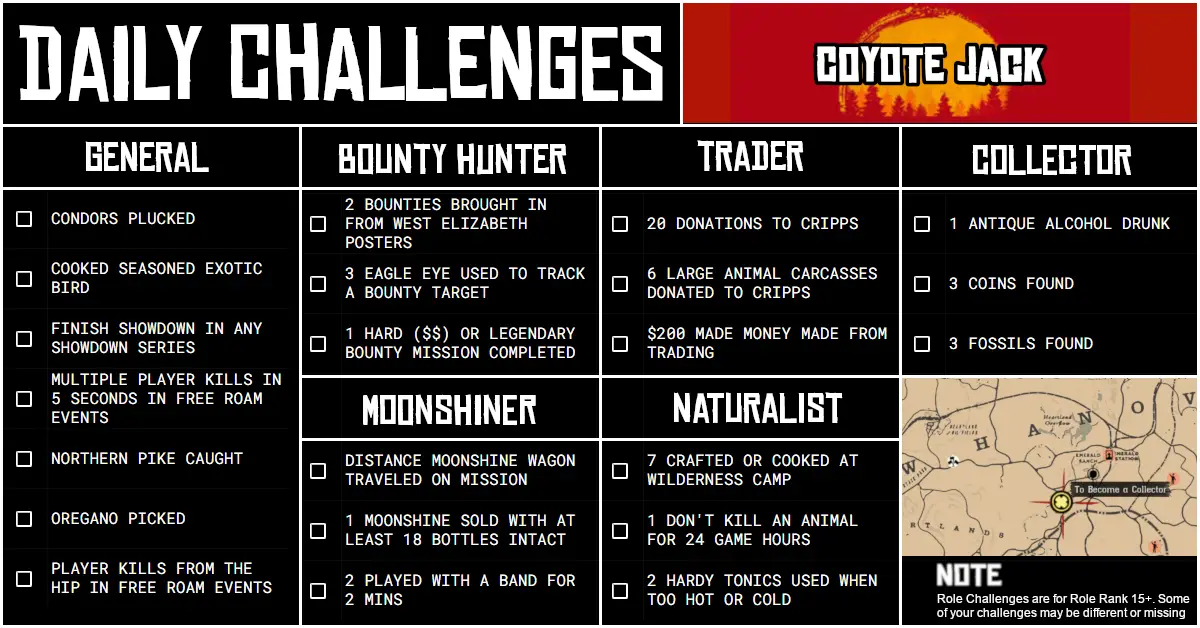 Daily Guide
Starting in New Austin today folks!
We can start in Tumbleweed for today's challenges. We can grab the condor, then head east to get the Pelican, the oregano and then north for the Pike. Let's get into it…
Condor
There are condors all around the outskirts of Tumbleweed and around Gaptooth Ridge. They are the large Black birds that fly around the desert solo. They are easy to spot. There is usually one on the road heading east out of Tumbleweed as you drop down to the railway tracks. Another good spot is the desert south of Tumbleweed.
Exotic Bird Meat
Exotic bird meat comes from Pelicans. Quaker's Cove is a good place to hunt for them. You can find them on the boards there, or the island just along the bank of the river. Pluck one for the meat then head to a campfire to cook it.
Oregano
There are lots of good places to get oregano. There are a couple of patches of it near the 'H' at the end of the word Elizabeth on the map There is some under the 'N' in the word Valentine too. You can easily get the five needed for the challenge from these two spots.
Northern Pike
Travel to Valentine then head over to Cattail Pond. This is full of Pike. Use your river lure or special spinner to target them and you'll hook one in no time. Take your time reeling it in and you should complete the challenge easily enough. 
Finishing Off
Wait for a Free Roam Event invite and get the kills from the hip and the kills in 5 seconds. Join a Showdown and play a full match. You might have to go from lobby to lobby to get the challenge to register. That'll do it for today…
Good Luck out there!
Quick Guides
‪‪‪
2 CONDORS PLUCKED – Condors can be found flying in the skies of New Austin. They are fairly common and easy to spot. Check the road heading east out of Tumbleweed near the train tracks. Fort Mercer is also a good spot
1 COOKED EXOTIC SEASONED BIRD MEAT – Exotic bird meat can be got from Pelicans. The Shore of Flat Iron Lake is a good spot to find them. Also try the coastline north of Saint Denis. Find one, kill it then skin it and head to a campfire to season it an cook it.
1 FINISH A SHOWDOWN IN ANY SHOWDOWN SERIES – Load into a Showdown match from either the main or quick join menu. Play the match through to the end. You may have to go lobby to lobby to get this to register. Shootout or Takeover series work best.
MULTIPLE PLAYER KILLS IN 5 SECONDS IN FREE ROAM EVENTS – Free Roam Events start every 45mins. Make sure your in a free roam lobby to be invited. Try and Kill 2 or more players in less than 5 seconds.
1 NORTHERN PIKE CAUGHT – Pike can be found in the Northern Rivers. It's best to use River lures or special spinner, you may struggle with food bait. The Northern stretch of The Dakota River is good Cattail Pond is also worth checking
5 OREGANO PICKED – Oregano is a common herb all over the map. A good spot to get all 5 is along the north bank of the Dakota River just round the bend from Caliban's seat.  
‪
PLAYER KILLS FROM THE HIP IN FREE ROAM EVENTS – Free Roam events are every 45mins and you must be in free roam when one is due to start to be invited. Kill players with any firearm without aiming down the sights. Use Paint it black and a shotgun and overcome that muscle memory! ‬
Bounty Hunter
2 BOUNTIES BROUGHT IN FROM WEST ELIZABETH POSTERS
3 EAGLE EYE USED TO TRACK A BOUNTY TARGET
1 HARD ($$) OR LEGENDARY BOUNTY MISSION COMPLETED
Trader
20 DONATIONS TO CRIPPS
6 LARGE ANIMAL CARCASSES DONATED TO CRIPPS
$200 MADE MONEY MADE FROM TRADING
Collector
1 ANTIQUE ALCOHOL DRUNK
3 COINS FOUND
3 FOSSILS FOUND
Moonshiner
DISTANCE MOONSHINE WAGON TRAVELED ON MISSION
1 MOONSHINE SOLD WITH AT LEAST 18 BOTTLES INTACT
2 PLAYED WITH A BAND FOR 2 MINS
Naturalist
7 CRAFTED OR COOKED AT WILDERNESS CAMP
1 DON'T KILL AN ANIMAL FOR 24 GAME HOURS
2 HARDY TONICS USED WHEN TOO HOT OR COLD
Please Note
Role Challenges are Role Rank Dependent. These challenges are based on Role Rank level 20. Your challenges may be different or missing depending on your level.
What are Daily Challenges in Red Dead Online?
Red Dead Online Daily Challenges are a set of tasks that change every day at 6am UTC. Challenges include things like killing three players with a rifle in showdowns or skinning an alligator. There are 7 general challenges and up to 3 Role specific challenges per Role. The payout for completing these challenges is 0.1 gold per challenge. There is also a bonus of 0.3 gold for completing all of the general challenges and 0.3 for completing 9 of the role challenges. The role challenges are capped at 9, even though there are potentially 15 available challenges. The best thing about daily challenges is you can earn a multiplier by completing at least one challenge a day. Building a streak will reward you with up to a 2.5x multiplier. So for completing all challenges you can earn a staggering 5.5 gold a day!. 
0-7 Days (no multiplier): 0.1 gold per challenge, 2.2 bars max 
8-14 Days (x1.5 multiplier: 0.15 gold per challenge, 3.3 gold max
15-21 Days (x2.0 multiplier): 0.20 gold per challenge, 4.4 gold max
22-28 Days (x2.5 multiplier) 0.25 gold per challenge, 5.5 gold max
As you can see, this is an excellent way to earn gold, especially if you can dedicate a month to play every day. If you were to max out all 7 regular challenges every day for a month you would have 49 gold bars form just challenges alone. That's enough to buy all three Frontier Pursuits Roles. Or put another way, almost $20 of real world money.
Check out todays challenges and guide by viewing the post at the top of the page.