Red Dead Online Daily Challenges
Today's Daily and Role Challenges  – 25th May
Here are today's Red Dead Online daily challenges and role challenges, along with quick guides for the individual challenges and a general guide to help you get today's challenges done quickly.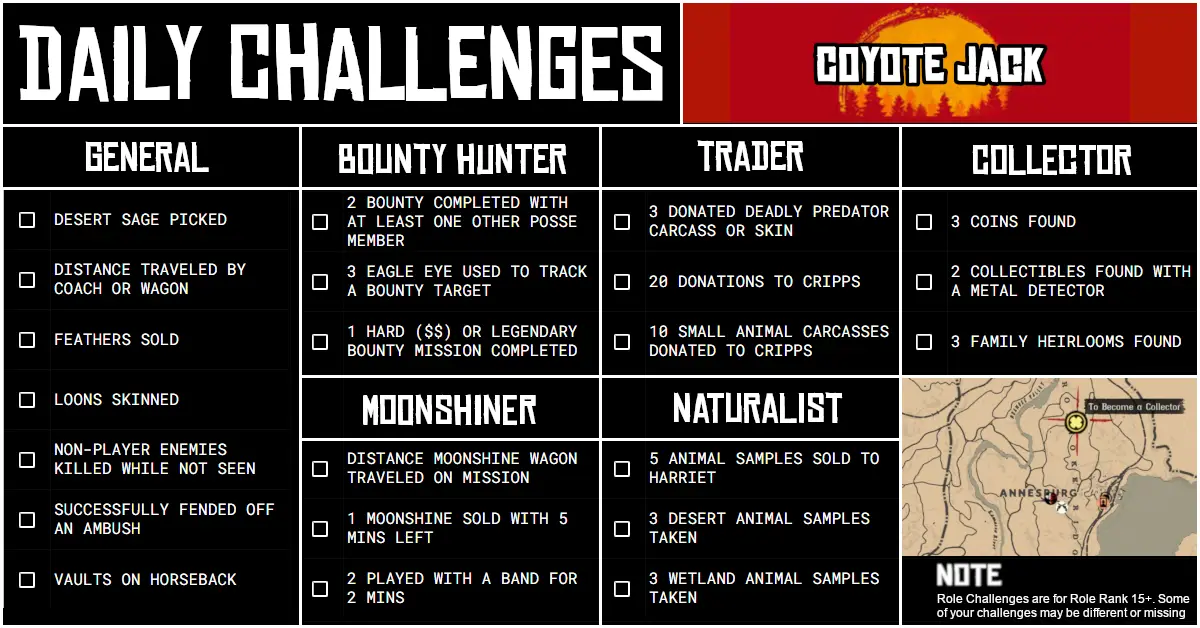 Daily Guide
Starting in New Austin today folks!
We'll start in Tumbleweed. We can get the Desert Sage tehn head to Tall Trees for most of the others. Let's get into it…
Desert Sage
As you come down the hill out of Tumbleweed, there are two patches of Desert Sage just near the 'E' in the New of New Austin on the map. There is more if you head west along the road towards Gaptooth Bridge.Look on your left as the road bends south and you'll see a few more patches of desert sage. Plenty here to get the five needed for the challenge. 
Loon Feathers
Aurora Basin is a good spot to hunt loons. Shoot and pluck one to get the feathers. Head down to Gus near the Lower Montana River to sell him the feathers.
Ambush
Call one of your wagons or grab a coach or wagon and then travel along the road to the west of Manzanita Post. There is an ambush spot here. There is another on the road between Tall Trees and Owanjila. You'll get the distance on the wagon before you get Ambushed I imagine!
Finishing Off
Jump over things on your horse until you have the 10 vaults completed. For the stealth kills, I like to do the Telegram Mission Rich Pickings. You can easily stealth kill the guards out the back of the house. That'll do it for today…
Good Luck out there!
Quick Guides
‪5 DESERT SAGE PICKED – Desert Sage grows in New Austin. If you head South out of Tumbleweed, there is a spot at the crossroads where you can get all 5. It's just to the left of the 'E' in New Austin on the map.
DISTANCE TRAVELLED BY COACH OR WAGON – Get a coach or wagon, your own or a stolen one, and travel the distance required.
FEATHERS SOLD – Sell Feathers at the butchers. Look for any birds, kill em, pluck em and head to the butchers for that Easy Gold!
1 LOONS SKINNED – Loons can be found along the rivers of West Elizabeth, New Hanover and Bayou NWA in Lemoyne. The islands on the west of Flat Iron Lake are a good place to look too.
5 NON-PLAYER ENEMIES KILLED WHILE NOT SEEN – Kill NPCs stealthily. Your Bow & throwing knives are your friend here. Thieves Landing is a good location in free roam. Also the legendary bounty hunter missions or the story mission 'Where your morals lead you' is good for stealth kills
1 SUCCESSFULLY FENDED OFF AN AMBUSH – Ambushes happen randomly at certain points around the map. Ride past a spot and hope it triggers. Check out the excellent work of u/thirdlegacy  red_dead_online_event_map_ver2
10 VAULTS ON HORSEBACK – Simply find a fence, fallen tree or rock that your horse can jump over and jump over it 10 times. Easy Gold!
Bounty Hunter
2 BOUNTY COMPLETED WITH AT LEAST ONE OTHER POSSE MEMBER
3 EAGLE EYE USED TO TRACK A BOUNTY TARGET
1 HARD ($$) OR LEGENDARY BOUNTY MISSION COMPLETED
Trader
3 DONATED DEADLY PREDATOR CARCASS OR SKIN
20 DONATIONS TO CRIPPS
10 SMALL ANIMAL CARCASSES DONATED TO CRIPPS
Collector
3 COINS FOUND
2 COLLECTIBLES FOUND WITH A METAL DETECTOR
3 FAMILY HEIRLOOMS FOUND
Moonshiner
DISTANCE MOONSHINE WAGON TRAVELED ON MISSION
1 MOONSHINE SOLD WITH 5 MINS LEFT
2 PLAYED WITH A BAND FOR 2 MINS
Naturalist
5 ANIMAL SAMPLES SOLD TO HARRIET
3 DESERT ANIMAL SAMPLES TAKEN
3 WETLAND ANIMAL SAMPLES TAKEN
Please Note
Role Challenges are Role Rank Dependent. These challenges are based on Role Rank level 20. Your challenges may be different or missing depending on your level.
What are Daily Challenges in Red Dead Online?
Red Dead Online Daily Challenges are a set of tasks that change every day at 6am UTC. Challenges include things like killing three players with a rifle in showdowns or skinning an alligator. There are 7 general challenges and up to 3 Role specific challenges per Role. The payout for completing these challenges is 0.1 gold per challenge. There is also a bonus of 0.3 gold for completing all of the general challenges and 0.3 for completing 9 of the role challenges. The role challenges are capped at 9, even though there are potentially 15 available challenges. The best thing about daily challenges is you can earn a multiplier by completing at least one challenge a day. Building a streak will reward you with up to a 2.5x multiplier. So for completing all challenges you can earn a staggering 5.5 gold a day!. 
0-7 Days (no multiplier): 0.1 gold per challenge, 2.2 bars max 
8-14 Days (x1.5 multiplier: 0.15 gold per challenge, 3.3 gold max
15-21 Days (x2.0 multiplier): 0.20 gold per challenge, 4.4 gold max
22-28 Days (x2.5 multiplier) 0.25 gold per challenge, 5.5 gold max
As you can see, this is an excellent way to earn gold, especially if you can dedicate a month to play every day. If you were to max out all 7 regular challenges every day for a month you would have 49 gold bars form just challenges alone. That's enough to buy all three Frontier Pursuits Roles. Or put another way, almost $20 of real world money.
Check out todays challenges and guide by viewing the post at the top of the page.