Red Dead Online Daily Challenges
Today's Daily and Role Challenges  – 4th October
Here are today's Red Dead Online daily challenges and role challenges, along with quick guides for the individual challenges and a general guide to help you get today's challenges done quickly.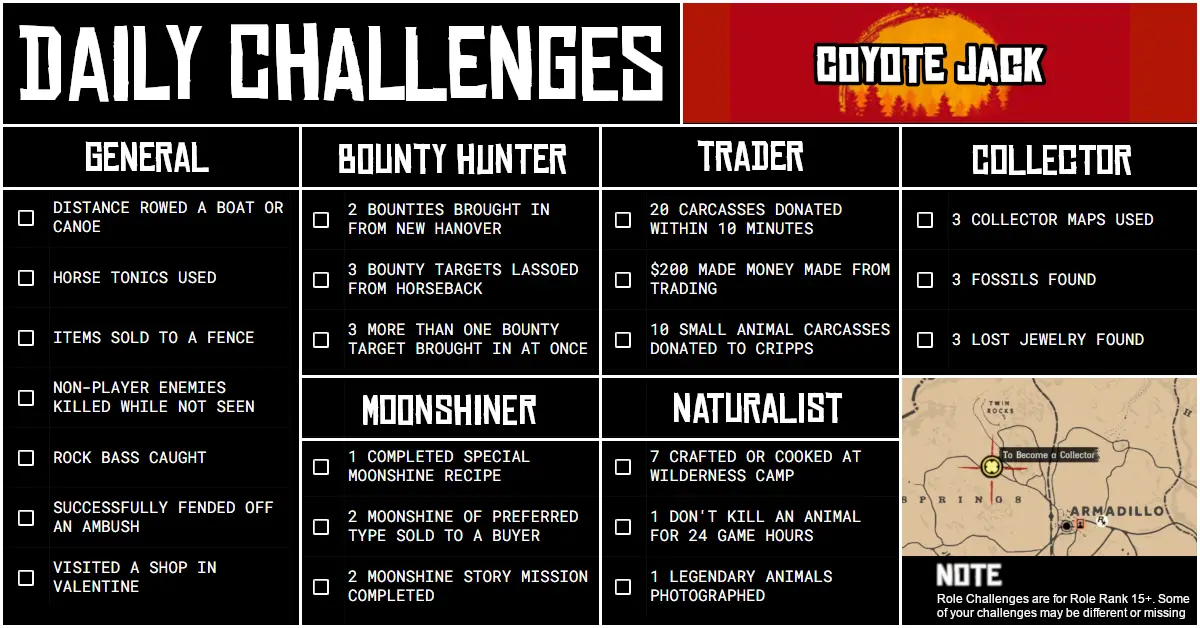 Daily Guide
Starting in West Elizabeth today folks!
We can start in Blackwater for today's challenges. We can visit a shop in town, hunt ducks, pick the thyme then head to Cotorra Springs. Let's get into it…
Blackwater
Visit one of the stores in town. The quickest way to complete this is to ride past the Butcher. Head out of town to the west. 
Creeping Thyme
Where the word Blackwater crosses the word Elizabeth on the map there is Creeping Thyme. There are some on the 'E' and next to the 'B' of the word Elizabeth and some on the 'T' of Blackwater.
Ducks
There are lots of ducks on the Upper Montana River and at the mouth of the Dakota River. Ride up from Blackwater, shoot and skin three of them.
Finishing Off
Travel up to Wapiti then ride to Catorra Springs. Join a Posse and complete a Hunt the Leader. Wait for a Free Roam Event invite to get the player kills then get headshots in a Showdown. That'll do it for today…
Good Luck out there!
Quick Guides
‪‪‪5 CREEPING THYME PICKED – Creeping Thyme grows in thin soil near river banks or in sandy soil the Desert south of Tumbleweed is my go to spot.
3 DUCKS SKINNED – Mattock Pond just North of Rhodes is my go to place for ducks, but they can be found around most water.
1 HUNT THE LEADER COMPLETED – Hunt the leader is a Posse Vs. Start or join a Posse with more than one member and have the leader start the match.
3 PLAYER HEADSHOT KILLS IN SHOWDOWNS – Kill other players with headshots. Takeover and Shootout series seem to register the kills the best and remember, you need to be in the lobby before the match starts for the kills to count
3 PLAYER KILLS IN FREE ROAM EVENTS – Free roam events occur every 45mins. You need to be in a free roam lobby when one is due to start to be invited. Join a PvP focussed event and get 3 kills
VISITED A SHOP IN BLACKWATER – Simply head over to Blackwater in West Elizabeth and go to one of the shops or the butchers. Easy Gold!
VISITED COTORRA SPRINGS – Simply visit Cotorra Springs. It's to the North of Cumberland Forest. Easy Gold, well worth the trip!
Bounty Hunter
2 BOUNTIES BROUGHT IN FROM NEW HANOVER
3 BOUNTY TARGETS BROUGHT IN
3 LIVING BOUNTY TARGETS IN A PHOTOGRAPH
Trader
2 GOODS SOLD TO LOCAL BUYER
7 MEDIUM ANIMAL CARCASSES DONATED TO CRIPPS
2 RESUPPLY MISSIONS COMPLETED
Collector
3 ARROWHEADS FOUND
2 COLLECTIBLES FOUND WITH A METAL DETECTOR
3 FOSSILS FOUND
Moonshiner
DISTANCE MOONSHINE WAGON TRAVELED ON MISSION
2 MOONSHINE BAR – DANCED FOR 2 MINS
2 PLAYED WITH A BAND FOR 2 MINS
Naturalist
1 DON'T KILL AN ANIMAL FOR 24 GAME HOURS
2 HARDY TONICS USED WHEN TOO HOT OR COLD
1 LEGENDARY ANIMALS PHOTOGRAPHED
Please Note
Role Challenges are Role Rank Dependent. These challenges are based on Role Rank level 20. Your challenges may be different or missing depending on your level.
What are Daily Challenges in Red Dead Online?
Red Dead Online Daily Challenges are a set of tasks that change every day at 6am UTC. Challenges include things like killing three players with a rifle in showdowns or skinning an alligator. There are 7 general challenges and up to 3 Role specific challenges per Role. The payout for completing these challenges is 0.1 gold per challenge. There is also a bonus of 0.3 gold for completing all of the general challenges and 0.3 for completing 9 of the role challenges. The role challenges are capped at 9, even though there are potentially 15 available challenges. The best thing about daily challenges is you can earn a multiplier by completing at least one challenge a day. Building a streak will reward you with up to a 2.5x multiplier. So for completing all challenges you can earn a staggering 5.5 gold a day!. 
0-7 Days (no multiplier): 0.1 gold per challenge, 2.2 bars max 
8-14 Days (x1.5 multiplier: 0.15 gold per challenge, 3.3 gold max
15-21 Days (x2.0 multiplier): 0.20 gold per challenge, 4.4 gold max
22-28 Days (x2.5 multiplier) 0.25 gold per challenge, 5.5 gold max
As you can see, this is an excellent way to earn gold, especially if you can dedicate a month to play every day. If you were to max out all 7 regular challenges every day for a month you would have 49 gold bars form just challenges alone. That's enough to buy all three Frontier Pursuits Roles. Or put another way, almost $20 of real world money.
Check out todays challenges and guide by viewing the post at the top of the page.