Red Dead Online Daily Challenges
Today's Daily and Role Challenges  – 29 May
Here are today's Red Dead Online daily challenges and role challenges, along with quick guides for the individual challenges and a general guide to help you get today's challenges done quickly.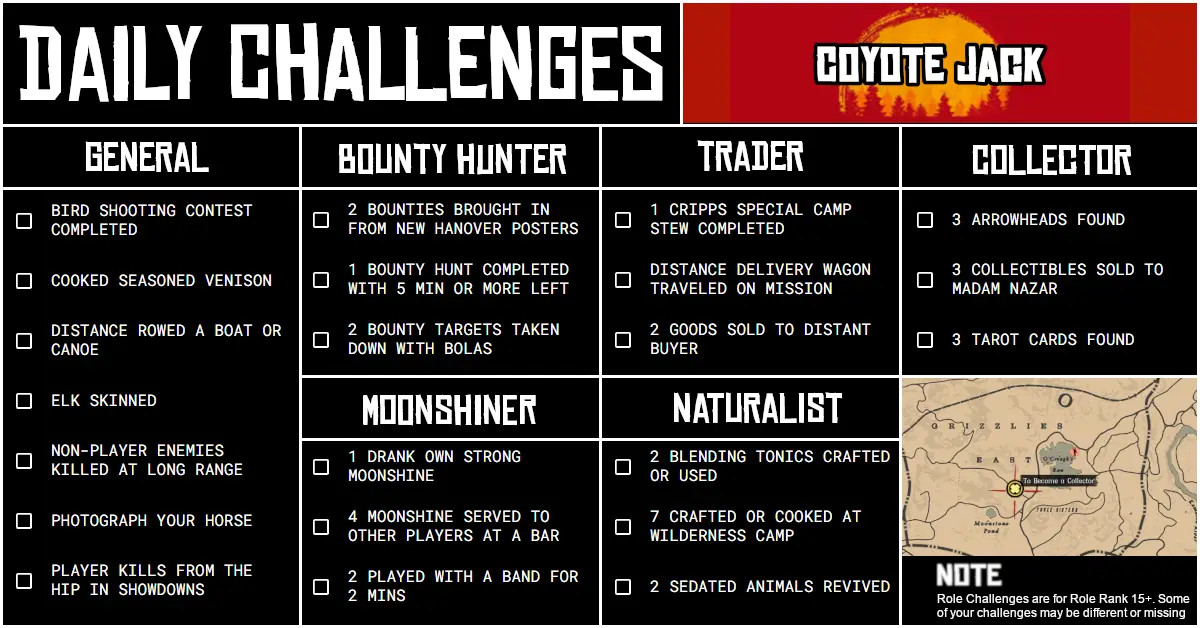 Daily Walkthrough
Starting in New Hanover today folks!
We can start in Annesburg for today's Challenges. We can head up to Brandywine Drop to hunt for Elk, get the venison then find a fire and a boat. Let's get into it…
Annesburg
Starting from Annesburg, ride north towards Brandywine Drop. The area above the falls and towards where the railway crosses the water is a good place to hunt for elk. There is a big bull elk that likes to drink from the river. There are elk near the edge of the map too.
Boat
Head back to Annesburg then fast travel down to Rhodes. Use the campfire at Southfield Flats to season and cook the venison then head over towards Flat Iron Lake. The channel between the islands and the mainland is a good place to hijack a boat. 
Finishing Off
Take a selfie then Posse Up and complete a Bird Shooting contest. Get the long range NPC kills from your favourite mission then head into a Showdown to get kills from the hip. That'll do it for today…
Good Luck out there!
Quick Guides
‪‪‪
1 BIRD SHOOTING CONTEST COMPLETED – Bird shooting contests can be triggered by a posse leader in the Posse Vs Menu. Join a Posse and have the leader start the contest.
3 COOKED SEASONED VENISON – Deer give Venison when skinned. Pronghorns and White Tails are fairly common all over the map. Just find em, shoot em, skin em and head over to a fire to season them up and cook. If your struggling to find them, try in The Heartlands and or New Austin
DISTANCE ROWED A BOAT OR CANOE – Find a Rowboat or a Canoe and travel the required distance. The area between the East bank of Flat Iron Lake and the islands is a reliable place to find a boat.
3 ELK SKINNED – Elk can be found at several spots. North Cumberland Forest, Tall Trees, Big Valley, O'Creaghs Run all have Elk. Find em, shoot em and skin em
5 NON-PLAYER ENEMIES KILLED AT LONG RANGE – Revenue Agents, Trader Resupply NPCs and Del Lobos are good for this. Pick a spot at range and pick them off. A scoped rifle will help. You can tell if they count as distance kills as an XP award notification pops up.
1 PHOTOGRAPH YOUR HORSE – Get your camera (the original works fine) out and take a snap of your equine companion. You may have to be a few steps back and have the horse centre frame to get it to register.
PLAYER KILLS FROM THE HIP IN SHOWDOWNS – Kill a player with a firearm without aiming down the sights. Paint it black and a shotgun make this an easy challenge if you can overcome that muscle memory!
Bounty Hunter
2 BOUNTIES BROUGHT IN FROM NEW HANOVER POSTERS
1 BOUNTY HUNT COMPLETED WITH 5 MIN OR MORE LEFT
2 BOUNTY TARGETS TAKEN DOWN WITH BOLAS
Trader
1 CRIPPS SPECIAL CAMP STEW COMPLETED
DISTANCE DELIVERY WAGON TRAVELED ON MISSION
2 GOODS SOLD TO DISTANT BUYER
Collector
3 ARROWHEADS FOUND
3 COLLECTIBLES SOLD TO MADAM NAZAR
3 TAROT CARDS FOUND
Moonshiner
1 DRANK OWN STRONG MOONSHINE
4 MOONSHINE SERVED TO OTHER PLAYERS AT A BAR
2 PLAYED WITH A BAND FOR 2 MINS
Naturalist
2 BLENDING TONICS CRAFTED OR USED
7 CRAFTED OR COOKED AT WILDERNESS CAMP
2 SEDATED ANIMALS REVIVED
Please Note
Role Challenges are Role Rank Dependent. These challenges are based on Role Rank level 20. Your challenges may be different or missing depending on your level.
What are Daily Challenges in Red Dead Online?
Red Dead Online Daily Challenges are a set of tasks that change every day at 6am UTC. Challenges include things like killing three players with a rifle in showdowns or skinning an alligator. There are 7 general challenges and up to 3 Role specific challenges per Role. The payout for completing these challenges is 0.1 gold per challenge. There is also a bonus of 0.3 gold for completing all of the general challenges and 0.3 for completing 9 of the role challenges. The role challenges are capped at 9, even though there are potentially 15 available challenges. The best thing about daily challenges is you can earn a multiplier by completing at least one challenge a day. Building a streak will reward you with up to a 2.5x multiplier. So for completing all challenges you can earn a staggering 5.5 gold a day!. 
0-7 Days (no multiplier): 0.1 gold per challenge, 2.2 bars max 
8-14 Days (x1.5 multiplier: 0.15 gold per challenge, 3.3 gold max
15-21 Days (x2.0 multiplier): 0.20 gold per challenge, 4.4 gold max
22-28 Days (x2.5 multiplier) 0.25 gold per challenge, 5.5 gold max
As you can see, this is an excellent way to earn gold, especially if you can dedicate a month to play every day. If you were to max out all 7 regular challenges every day for a month you would have 49 gold bars form just challenges alone. That's enough to buy all three Frontier Pursuits Roles. Or put another way, almost $20 of real world money.
Check out todays challenges and guide by viewing the post at the top of the page.