Red Dead Online Daily Challenges
Today's Daily and Role Challenges  – 03 October
Here are today's Red Dead Online daily challenges and role challenges, along with quick guides for the individual challenges and a general guide to help you get today's challenges done quickly.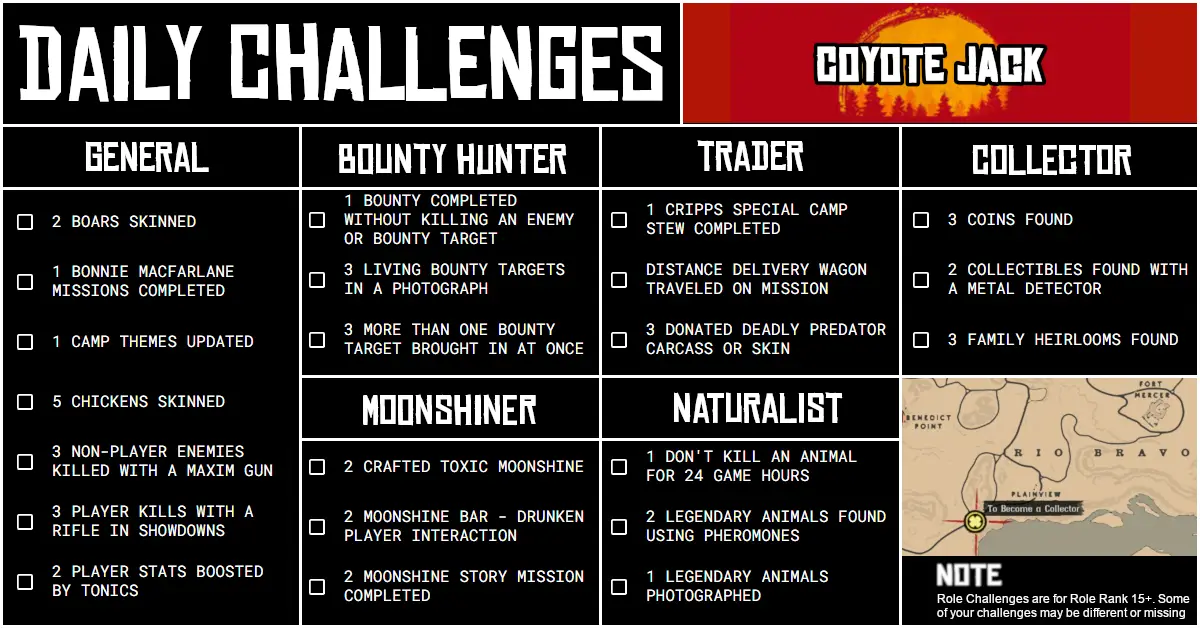 Daily Walkthrough
Starting in Lemoyne today folks!
We can start in Lagras for today's Challenges. There are Chickens in Lagras and Boar in Bluewater Marsh. Then we will need to head west to find Bonnie Let's get into it…
Chickens
Starting at the Fast Travel Post in Lagras, look around for chickens. They are usually right near the post. If they aren't there, or you don't manage to get all five there are some more chickens behind the white house near the letter 'O' in the word Bayou on the map. If you travel between these two spots during daylight you should get the five chickens needed for the challenge.
Wild Boar
There are wild boar in Bluewater Marsh. You can find them roaming around anywhere from Lakay up to Copperhead Landing near the border with New Hanover. When you find a pack of them, shoot and skin two of them to complete the challenge.
Maxim-Gun
Some Hideouts like the one at Cumberland Forest Cumberland Falls have Maxim Guns and you can use them to clear the gang members from the hideout. The story mission, "Kill them, each and every one" is also a good way to get Maxim Gun kills. If you have low honour then "Kerosene, Tar and Greed" is a good mission to do. You can also do the Beau Finley Legendary bounty mission if you have access to it.
Bonnie MacFarlane
Bonnie MacFarlane is one of the strangers .She can be found at MacFarlane's Ranch in New Austin. Travel to the ranch then approach and speak with Bonnie. Accept and complete one of the missions she has available.
Finishing Off
Head to your camp and update the theme using the Wilderness Outfitters menu. Grab some tonics and your favourite rifle and load into a Showdown. Chug the tonics and get the kills with the rifle. That'll do it for today…
Good Luck out there!
Quick Guides
‪‪‪
2 BOARS SKINNED – Wild Boar are most common in Lemoyne. Try Scarlett Meadows or Bluewater Marsh. Find some, kill them and skin them
BONNIE MACFARLANE MISSIONS COMPLETED – Bonnie MacFarlane can be found at MacFarlane's Ranch. Visit her and complete the mission she gives you.
1 CAMP THEMES UPDATED – Head to camp and talk to Cripps at the Wilderness Outfitters. Change your camp theme. If you have already updated it, you can switch between purchased themes and it will count.
‪
5 CHICKEN SKINNED – Chickens can be found in coups around the map. Braithwaite manor has a coup, So does the shacks just north of Rhodes. Emerald ranch has a pen with them near the Fence. There's also chickens roaming Rathskeller Fork. You may need to swap lobbies to get them‬
3 NON-PLAYER ENEMIES KILLED WITH A MAXIM GUN – Maxim guns are the big machine guns. Hideouts like the one at Cumberland falls have them. Use the gun to kill the bandits
3 PLAYER KILLS WITH A RIFLE IN SHOWDOWNS- Make sure you have your rifle equipped before you join a Showdown match and then use it to kill 3 players. You will have to be in the lobby before the match starts for the kills to count
2 PLAYER STATS BOOSTED BY TONICS – Tonics can be taken to boost Health, Stamina and Dead Eye. Loot or craft them then tab right on the weapon wheel to select them. Snake oil, Cocaine gum and health tonics are fairly common
Bounty Hunter
1 BOUNTY COMPLETED WITHOUT KILLING AN ENEMY OR BOUNTY TARGET
3 LIVING BOUNTY TARGETS IN A PHOTOGRAPH
3 MORE THAN ONE BOUNTY TARGET BROUGHT IN AT ONCE
Trader
1 CRIPPS SPECIAL CAMP STEW COMPLETED
DISTANCE DELIVERY WAGON TRAVELED ON MISSION
3 DONATED DEADLY PREDATOR CARCASS OR SKIN
Collector
3 COINS FOUND
2 COLLECTIBLES FOUND WITH A METAL DETECTOR
3 FAMILY HEIRLOOMS FOUND
Moonshiner
2 CRAFTED TOXIC MOONSHINE
2 MOONSHINE BAR – DRUNKEN PLAYER INTERACTION
2 MOONSHINE STORY MISSION COMPLETED
Naturalist
1 DON'T KILL AN ANIMAL FOR 24 GAME HOURS
2 LEGENDARY ANIMALS FOUND USING PHEROMONES
1 LEGENDARY ANIMALS PHOTOGRAPHED
Please Note
Role Challenges are Role Rank Dependent. These challenges are based on Role Rank level 20. Your challenges may be different or missing depending on your level.
What are Daily Challenges in Red Dead Online?
Red Dead Online Daily Challenges are a set of tasks that change every day at 6am UTC. Challenges include things like killing three players with a rifle in showdowns or skinning an alligator. There are 7 general challenges and up to 3 Role specific challenges per Role. The payout for completing these challenges is 0.1 gold per challenge. There is also a bonus of 0.3 gold for completing all of the general challenges and 0.3 for completing 9 of the role challenges. The role challenges are capped at 9, even though there are potentially 15 available challenges. The best thing about daily challenges is you can earn a multiplier by completing at least one challenge a day. Building a streak will reward you with up to a 2.5x multiplier. So for completing all challenges you can earn a staggering 5.5 gold a day!. 
0-7 Days (no multiplier): 0.1 gold per challenge, 2.2 bars max 
8-14 Days (x1.5 multiplier: 0.15 gold per challenge, 3.3 gold max
15-21 Days (x2.0 multiplier): 0.20 gold per challenge, 4.4 gold max
22-28 Days (x2.5 multiplier) 0.25 gold per challenge, 5.5 gold max
As you can see, this is an excellent way to earn gold, especially if you can dedicate a month to play every day. If you were to max out all 7 regular challenges every day for a month you would have 49 gold bars form just challenges alone. That's enough to buy all three Frontier Pursuits Roles. Or put another way, almost $20 of real world money.
Check out todays challenges and guide by viewing the post at the top of the page.