Madam Nazar is a mysterious traveller in the online world of Red Dead Redemption. She was introduced as part of the Frontier Pursuits update and is the chief character for the Collector Role. She moves around the map and changes location every day at 6am UTC. There are 12 possible locations covering every state. 
Where is Madam Nazar Today? – 03 October
Madam Nazar is in New Austin today. She's near Plainview in Rio Bravo.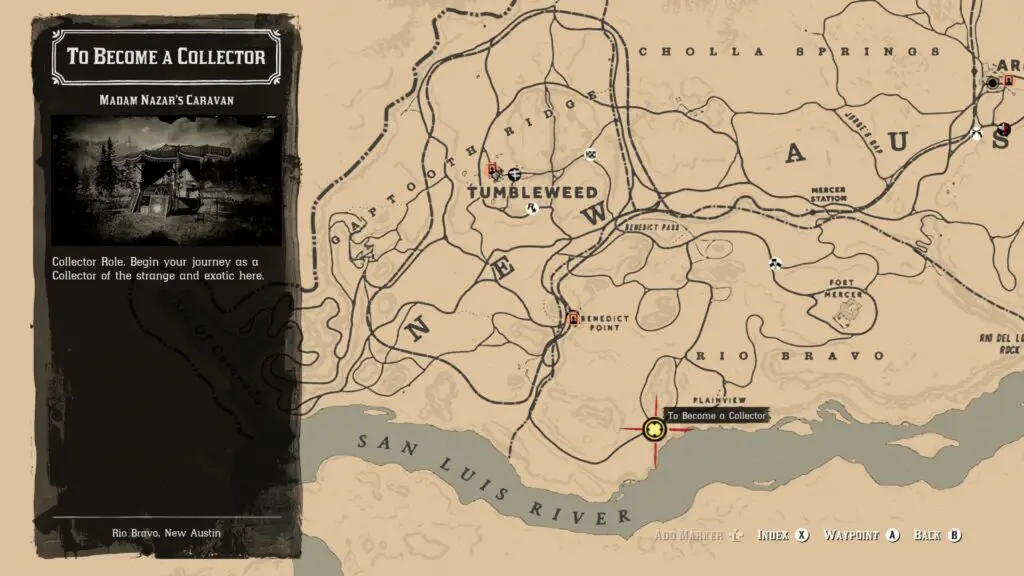 What are today's Collector Cycles?
American Wild Flowers: 3,
Tarot Cards: 1,
Jewellery: 1,
Alcohol: 3,
Bird Eggs: 6,
Arrowheads: 2,
Heirlooms: 4,
Coins: 1,
Fossils: 3,
Visiting Madam Nazar
Madam Nazar is where you need to go to sell your collectables. These are the Wild Flowers, Tarot Cards, Jewelry, Eggs, Coins etc that you find around the Red Dead Online world. She will buy individual collectables off you for $RDO but will also pay more for full collections.To help guide you in finding collectables, use this map. 
Madam Nazar also sells Collector Maps, specialist weapons, clothing and items all relating to the Collector Role. It really is important to know where she is if you plan to play collector. Some of the Collector Role Daily Challenges also rely on being able to locate her.
Why is Madam Nazar not showing up on my map?
Madam Nazar will be highlighted in yellow on your map if you have not yet become a collector. Once you have talked with her and purchased the collector bag, she will only stay on your map for the remainder of that real world day. When 6am UTC passes, and she moves camp, she will vanish from your map. You have to find her again to keep her on the map for the remainder of the day.